June 29, 2020
St. Nicholas members and friends,
My desire is to keep us all informed, encouraged and connected as much as possible!  I have each of you in my prayers.  I hope you are connecting with our Facebook Live worship, prayers and other videos.  Today I want to pass on to you the godly leadership of our bishop.
Our Bishop writes in a letter to us:
Greetings in Christ. I want to thank you for the care and faithfulness with which you all have served. We have entered a worrisome and problematic phase. For this reason we need to take a step back. I do believe that we have learned things which we help us on the other side of this present period, when we can go back to indoor and in-person worship.
All our Churches must step back from Step C (worship indoors), effective immediately. I would also ask that we take extra precautions as we make use of Step B's smaller gathering. Staff should work from home whenever possible, and we should avoid in-person meetings.
All still have distribution of communion and live- streaming of Sunday worship available to them.
Peace,
The Rt. Rev. Dr. George R. Sumner 
Bishop of Dallas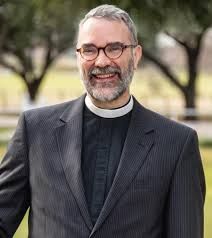 Fr. Mark's summary from our bishop's directive: we at St. Nicholas Church will discontinue, until further notice, in-person worship in the church nave/sanctuary.
Facebook Live worship only will continue at 11am Sundays.
Blessed Hosts will be distributed on Saturdays from 5-6 pm from the church parking lot for members, friends and guests to consume during the Facebook Live broadcast on Sundays at 11am.
Communion in your home is available. Fr. Mark is available as requested to come to your home for a Holy Communion service with you, your family and as many friends as you can accommodate with appropriate distance between individuals.  Email, call or text Fr. Mark to request him to come to your home.
Groups of 10 or less can meet on campus with masks and stay 6-feet apart from each other.
This is a stressful time for most, if not all of us.  But at the same time I have found great joy as I watch staff and members finding creative ways to stay connected to one another and with our Lord and to engage more with the community around them.  I see lemonade being made from the lemons!  What Satan intended for evil our Lord has used for good!
Thank you for your prayers for me, the staff and the church leadership!  Call, text, email or send a note with your joys, frustrations or questions to me.  I don't always have the answers or cannot always make it better but I can listen.
Blessings
Fr. Mark Wright
972-318-7070