Christmas Schedule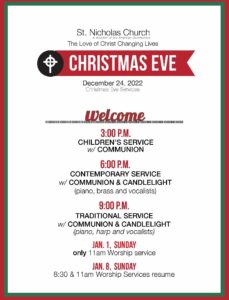 Christmas Eve Services
3pm, 6pm and 9pm
All welcome!
Grief Share begins Jan. 8, 2023, meets Sundays at 2pm. in Harte house (church office bldg) For more information or questions email: marnimarsh@gmail.com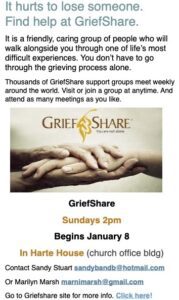 Women's Bible Study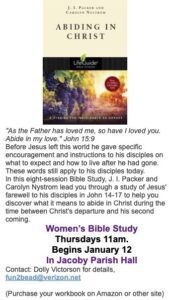 Begins January 12
Thursdays 11am in Jacoby Hall
Contact: Dolly at fun2bead@verizon.net
It is my hope that our website helps show you some of the life of St. Nicholas Church. We are a friendly church that welcomes people with the love of Christ changing lives.
Who We Are
At St. Nicholas, we believe that we are to live by the Great Commandment (Matthew 22:37-39) and the Great Commission (Matthew 28:19-20). Both of these were given by Jesus Christ directly to his disciples. The Great Commandment sums up how we should live our lives while the Great Commission tells us the purpose of our lives.
What We Do
At St. Nicholas, we have five purposes that serve as the foundation for all we do. Derived from the Great Commandment (Matthew 22:27-39) and the Great Commission (Matthew 28:19-20), we believe these purposes form the basis of our life together
Sunday Services
Holy Communion, Inside (music)
8:30 AM
Holy Communion, Inside (music) Streamed On Facebook
11:00 AM
Email
office@stnicksonline.org
Address
Saint Nicholas Church
4800 Wichita Trail Flower Mound, TX 75022